Introducing Large Ceramic Slabs - the Cutting-Edge Solution for Modern Spaces
References
Welcome to the world of large ceramic slabs – an innovative material and the game-changer in the construction and interior design industry. With their exceptional qualities and impressive dimensions, architects and designers are given unlimited creative freedom to bring their vision to life and create breathtaking and functional environments. It's no surprise that large ceramic slabs have quickly become one of the hottest trends in interior design, even surpassing the popularity of traditional marble. The perfect blend of aesthetics and functionality, these slabs have become the go-to choice for both residential and commercial projects. Let's dive into the details and explore the versatility and endless possibilities of this material!

A Practical Alternative to Natural Stones
Large ceramic slabs, also known as ceramic slabs, are highly popular in the stone industry. These innovative materials stand out for their impressive size, exceeding standard dimensions. Through a specialized manufacturing process, large ceramic slabs obtain properties that compare favourably to natural stones, making them a practical alternative. Large ceramic slabs have a multitude of applications, commonly utilized for kitchen and bathroom countertops, as well as for both exterior and interior cladding.
The Secrets of Composition and Manufacturing Process
Ceramic slabs are classified as synthetic materials due to their non-natural occurrence even though they are composed entirely of natural ingredients. Let's explore the key components that contribute to their exceptional qualities.
Large ceramic slabs are made from carefully blended mixture of various natural minerals, including:

Quartz sand
Shale (a clay material)
Granite rocks
The production of large ceramic slabs involves a process where minerals and pigments are blended together. Following this, the mixture undergoes a pressing stage before being fired in hybrid kilns at temperatures exceeding 1200°C. This careful process results in the creation of large ceramic slabs with exceptional properties that surpass even the beauty of marble!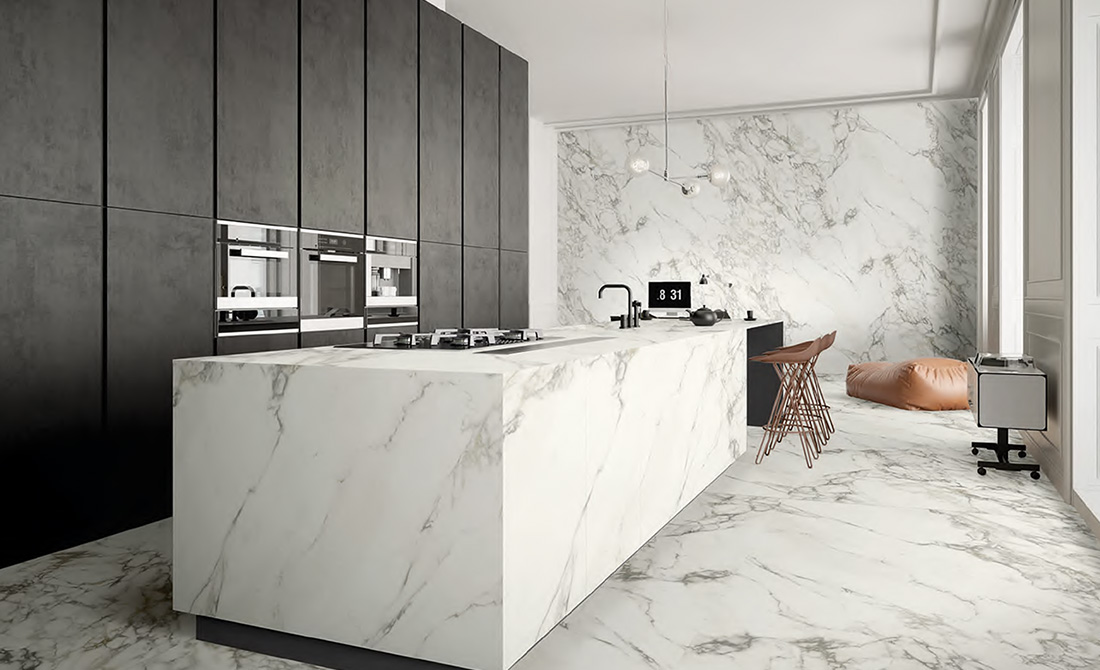 A Fusion of Beauty and Endurance
The composition and processing techniques directly contribute to the exceptional characteristics of ceramic slabs. Renowned for their incredible hardness (6.7 on the Mohs scale), ceramic slabs are considered top alternatives to natural stones like granite and marble. This remarkable hardness ensures resistance against scratches, wear, and mechanical damage, guaranteeing long-lasting beauty.
One of the standout features of ceramic slabs is their ability to maintain their structure and colour even with regular use. The uniform surface of these slabs ensures a pore-free and microcrack-free finish. As a result, ceramic slabs are not only waterproof but also boast an impressively low water absorption rate of 0.1%. Furthermoe, their non-porous nature prevents the growth of bacteria, fungi, or mold, ensuring a hygienic and healthy environment. In addition to their durability, ceramic slabs fearlessly withstand high temperatures and fire.

Whether it's the kitchen or bathroom, ceramic slabs offer a reliable and long-lasting solution.

The premium quality of ceramic slabs flawlessly mimic the beauty of natural stone while offering excellent value for your investment. The elegance, functionality, and durability that ceramic slabs bring to your space surpass even the appeal of marble itself.
Large Ceramic Slabs: Summary
The exceptional qualities of large ceramic slabs:

High resistance to abrasion, wear, and mechanical damage.
Scratch-resistant and ideal for kitchen countertops.
Hygienic, preventing the growth of bacteria, fungi, or mold.
Highly resistant to weather conditions and ultraviolet radiation, perfect for exterior cladding.
Easy to clean and maintain, ensuring long-lasting beauty.
Transform your Space with Large Ceramic Slabs
Ceramic slabs are a highly versatile material suitable for both indoor and outdoor applications. With their exceptional properties, these slabs are the ultimate choice for various areas within your space. From kitchen and bathroom countertops to windowsills and decorative elements, ceramic slabs provide a perfect blend of functionality and aesthetics. Join the latest design trend by utilizing these slabs as stylish facings for your furniture fronts!
Thanks to their remarkable hardness and resistance to wear, ceramic slabs excel in high-traffic areas such as floors, train stations, airports, and terraces. Additionally, their relatively lightweight nature allows for applications where structural lightness is crucial without compromising strength. Whether it's shipbuilding, wall cladding, suspended ceilings, tunnels, or railway platforms, ceramic slabs are the perfect choice. Furthermore, large ceramic slabs prove to be ideal for crafting original designs in diverse settings such as restaurants, hotels, and shopping centers.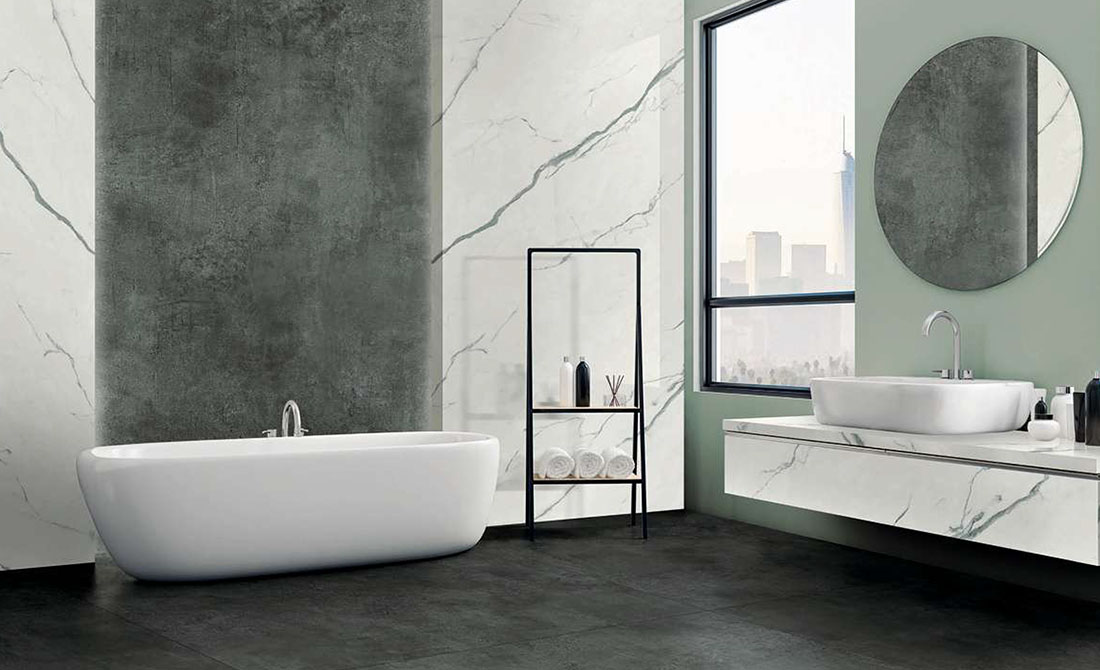 Keralini Large Ceramic Slabs – where Elegance of Italian Design meets Technology
Experience the elegance of Italian design combined with cutting-edge technology with Keralini collection of large ceramic slabs. Attention to details during manufacturing process ensures the production of the highest quality material, making it a favourite among individual customers and leading companies in the stone industry. Keralini large ceramic slabs are certified and meet the strictest safety requirements, making them ideal for various environments.
Appreciated for their diverse range of appearances, Keralini ceramic slabs offer a wide selection of patterns and colours, allowing you to create a truly unique interior design. Keralini decor collection includes ceramic slabs with consistent colours as well as nature-inspired designs, including marble imitations.
Discover the world of trendy materials with Architype!
Keralini ceramic slabs are among the leading materials at Architype, however that's not all we have to offer. Explore our diverse selection, which includes quartz surfaces, solid surfaces, and large ceramic slabs that rival even the most luxurious marble. Elevate the beauty of your home with these durable and visually stunning materials. Uncover a world of endless possibilities with our exquisite stone collection.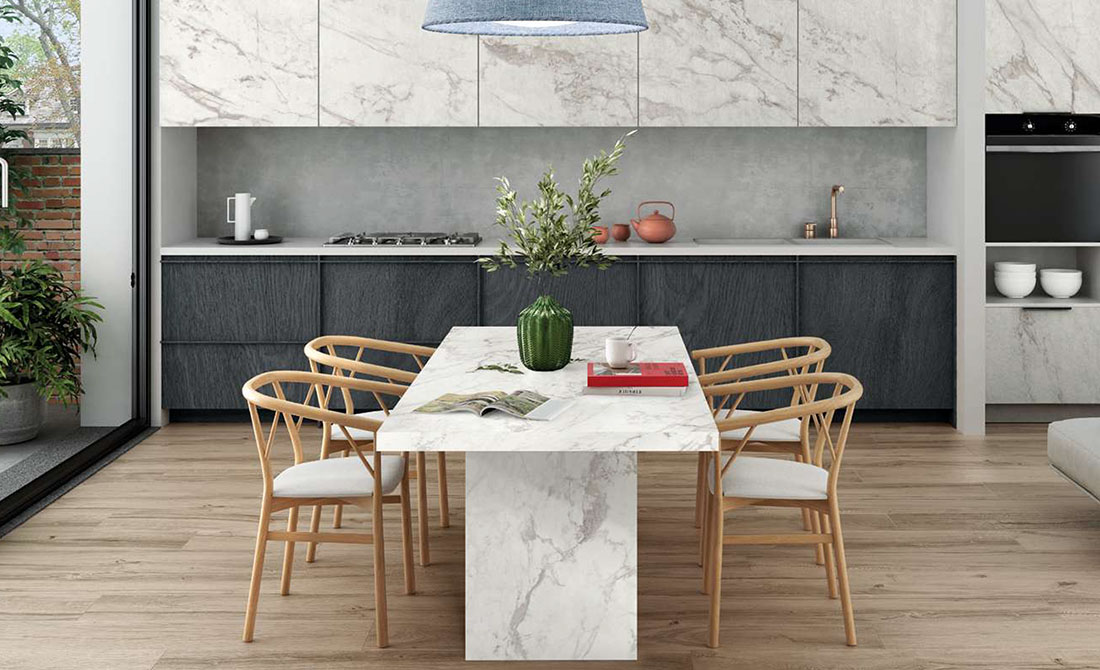 ---