Loading, transport, and storage of artificial stone slabs. What is worth knowing?
References
Quartz surfaces, large ceramic slabs or mineral-acrylic composites are types of materials that require appropriate treatment. Due to the large size and weight of stone slabs, appropriate techniques and tools are required for loading, transporting, and storing them. Below, we will review the most relevant aspects for these three activities.

How much do the stone slabs weigh?
Artificial stones are materials that have been eagerly used for years in the manufacture of products for private homes and commercial spaces. Above all, mineral-acrylic composite, large ceramic slab or quartz surface are ideally suitable for kitchen and bathroom countertops. At Architype, each of these materials is available in the form of large-sized stone slabs:

Material

Size

Thickness

Quartz surface Caesarstone


3050 x 1440 mm (standard)

3340 x 1640 mm (jumbo)


13 / 20 / 30 mm

Quartz surface Avant Quartz

3200 x 1600 mm

20 mm

Quartz surface Tisoro

3200 x 1600 mm

15 / 20 mm

Large ceramic slab Keralini

3200 x 1600 mm

6 / 12 mm

Mineral-acrylic composite GRANDEX

3680 x 760 mm

12 mm

Artificial stone - essential information on delivery and storage
Due to their large size and weight, stone slabs require dedicated techniques when it comes to safe and efficient transportation and storage. Taking care of the appropriate storage methods and conditions and using the recommended means of transport are essential if we wish to maintain quality and avoid damage to materials. What is it worth knowing about this aspect?

Loading and unloading of stone slabs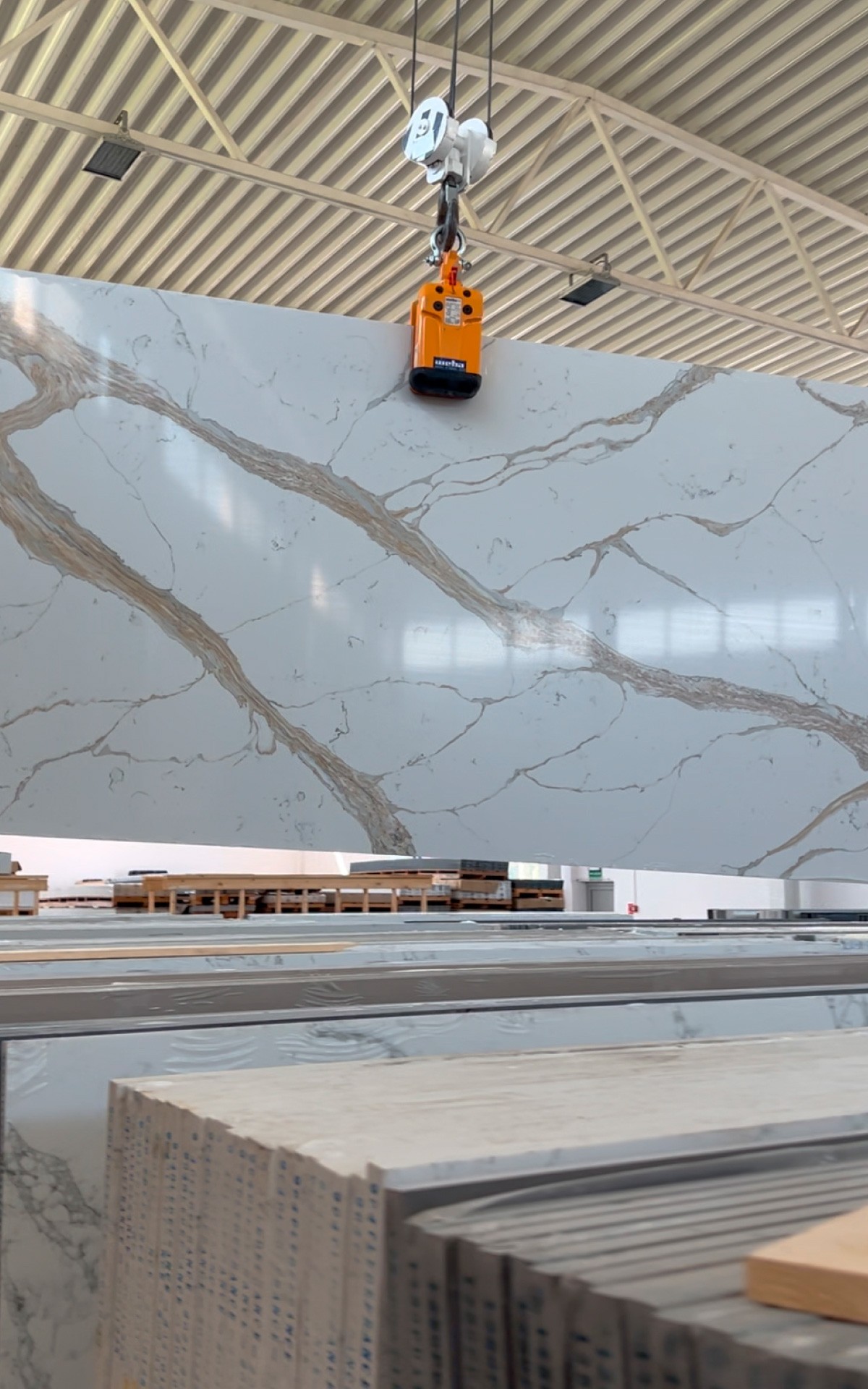 In the first instance, correct loading and unloading of the stone is essential. At each stage, the centre of gravity of the stone slabs must be counterbalanced. Appropriate tools, such as a forklift or crane, are needed for loading, unloading, and handling the slabs. In this aspect, it is most crucial to ensure that the gripper designed to lift the slabs is tightly adjusted to the weight of the material. The stone slabs that are being transported should be stacked - with the front or back side facing each other only - and then secured with specially designed clamps or belts during transportation.
Loading methods
Before starting any loading, it is vital to ensure that the slabs are properly secured. Then they should be placed in the vehicle, using dedicated equipment such as:
scissor lift,
clamp jack,
lifting belts.
Transport of artificial stone articles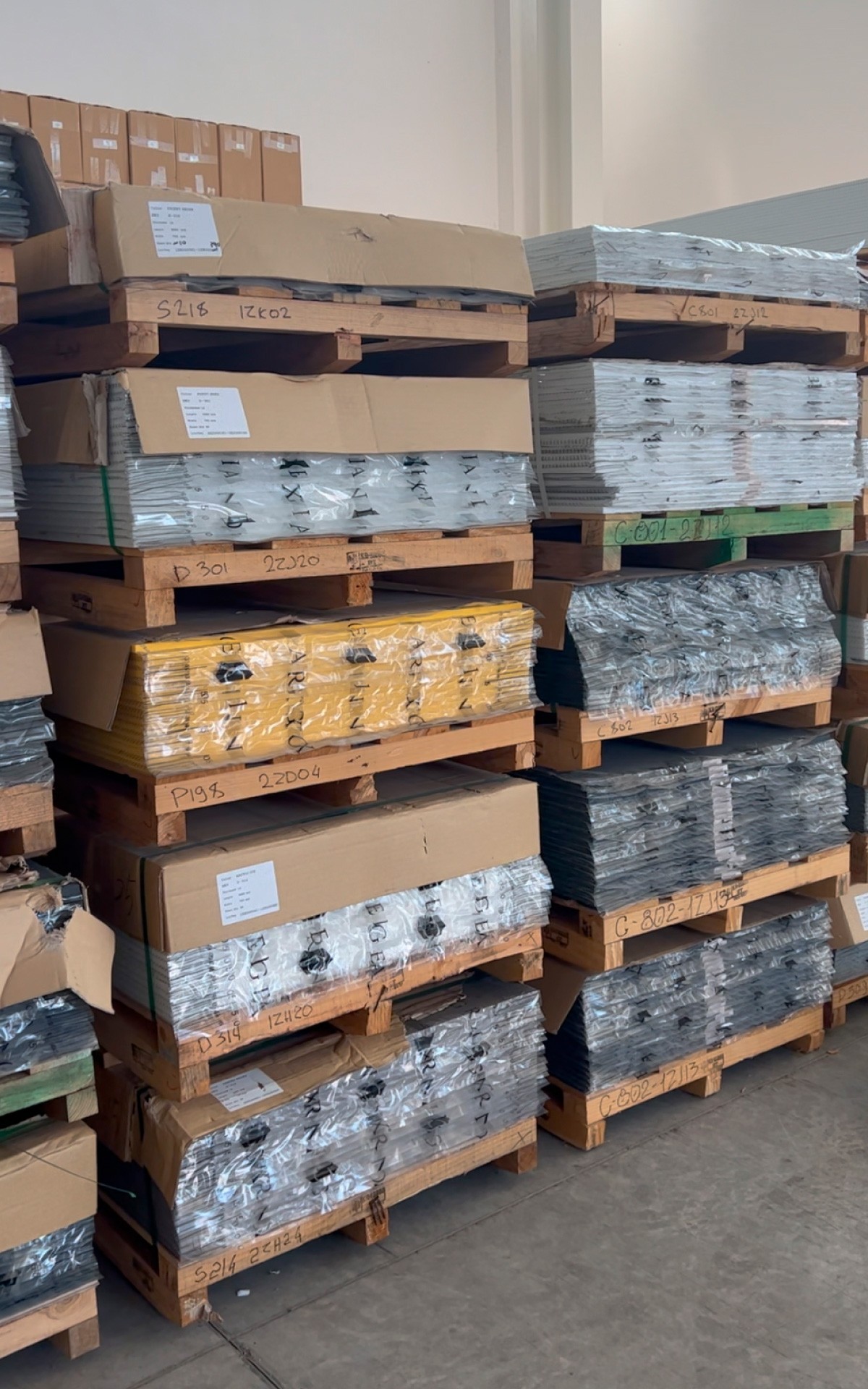 The packed slabs must be transported in a proper way:
fasten a suitable frame to the vehicle for loading the slabs (e.g. an A-shaped construction),
load the boards evenly on both sides of the frame (either placing them only with their rear or only with their front side facing each other),
tie the slabs to the frame,
lash the construction with the slabs to the truck.
Storage of stone slabs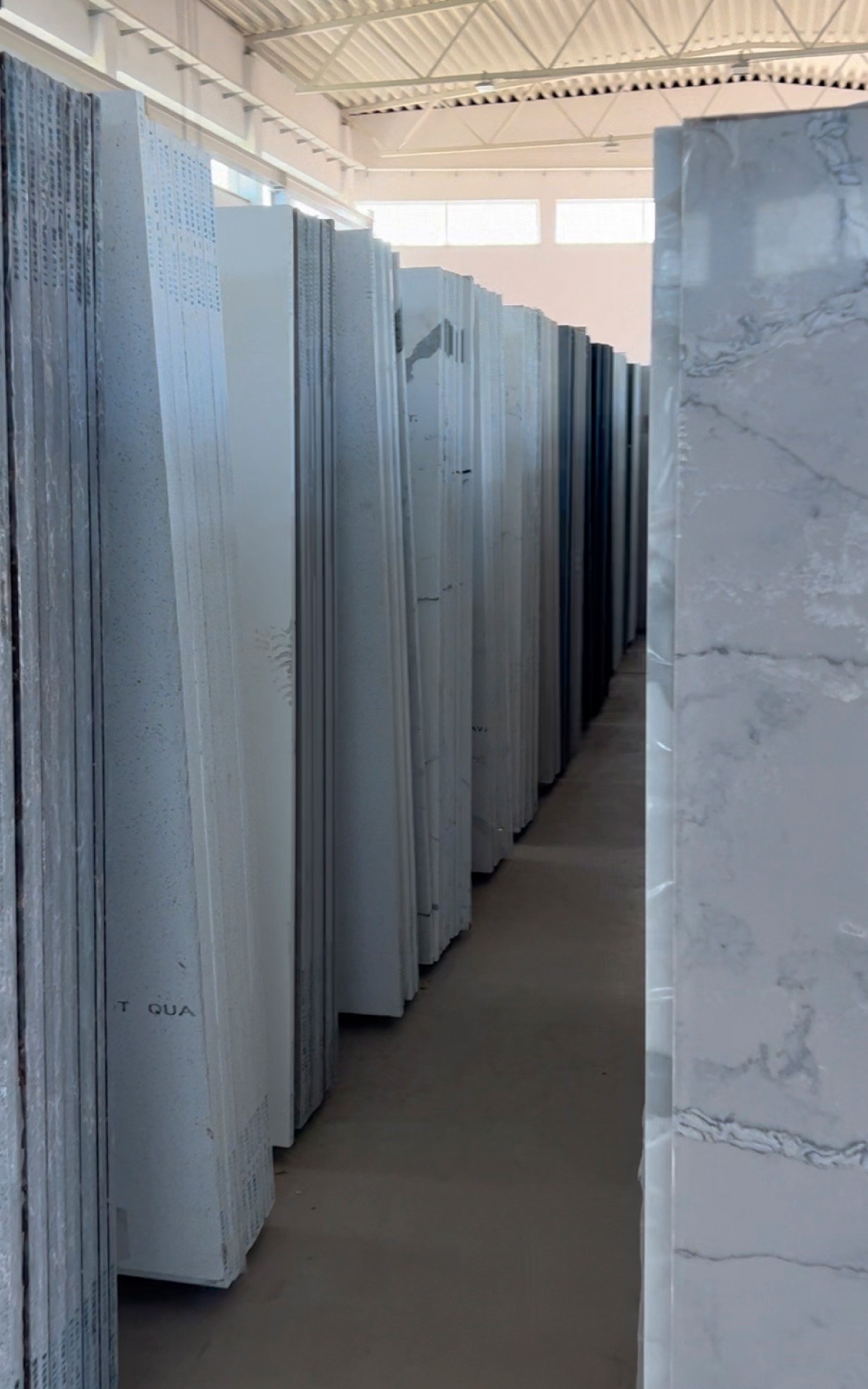 Once the stone slabs are transported, care should be provided for proper storage. Above all, direct exposure of the materials to the sun is not recommended. The slabs should be fixed to two supports, placed 1500-1800 mm from each other. In addition, each slab should be supported by brackets along its entire length. For increased protection of the material, it is recommended to add two slabs between the batch and the brace and two additional slabs on the outside.
When storing the slabs in areas exposed to sunlight and high temperatures, it is advisable to provide additional support to prevent deformation (extra bracket placed near the supports). The outermost slabs should be stored with the back side out, to avoid damaging the polished surface. If several slabs are included and may be exposed to the wind, they should be reinforced. For this purpose, it is a wise choice to place a wooden or plastic wedge at a 90-degree angle between the last plate and the nearest brace.
It is advisable to remember that slabs made of quartz surface, mineral-acrylic composite or large ceramic slabs are very heavy. Their improper handling and storage can endanger the life or health of the bystanders. In order to maintain safe working conditions, it is recommended that all slabs are securely fastened during storage. Uneven pressure can cause shifting of the frame, resulting in the slabs tipping over.
Services and materials from Architype!
Clearly, the process of producing a stone product is not the whole story! In order to use the selected stone to create the desired pieces, it is essential to transport and store it properly. As a company that is thriving in the stone industry, we know exactly which tools and equipment to use in order to protect the slabs safely and efficiently from possible damage. If you also specialise in the production of artificial stone products, join us. Contact us if you would like your services to become part of Architype too!

---