Engineered quartz items maintenance
References
Daily care
Water and mild detergents, high-quality sprays, impregnated soft cloth and non-abrasive sponges are used for daily care of items made of engineered quartz.
As a rule, it is advisable to use detergents having pH ranging from 5 to 9. Detergents with higher or lower pH may damage the surface, that is why it is necessary to check their influence in advance on a small or hidden spot.
Do not let detergent sit on the surface for more than 5 minutes. If that would be necessary to let the detergent sit for a longer time, check its influence in advance on a small or hidden spot.
Do not use detergents containing trichloroethane or methylene chloride (like stain removers and cleanser).
In case if surface will get exposed to any potentially hazardous substance, immediately rinse it with water to neutralize the damaging effect.
Do not let contaminations and traces sit for longer periods of time on the engineered quartz surfaces. Immediately remove any traces of grease and spilled powders.
Rinse thoroughly cloth and sponges used for cleaning.
Exposure to high temperatures
Engineered quartz withstand without problems short-time exposure to high temperatures. But long-term contact with very hot objects results in discolored surface or other damage.
Avoid direct contact of the engineered quartz surface with a very hot kettle or kitchenware just removed from fire. Objects with temperature over 70 °С, shall be put onto special trivets or heat-resisting mats.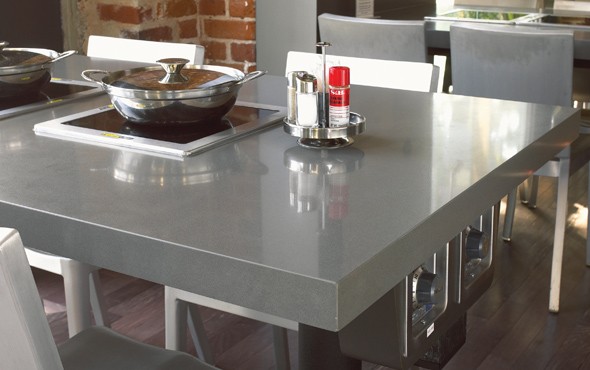 Resistance to scratches
Engineered quartz is highly scratch-resistant. Nevertheless, avoid using sharp objects, like sharp knives or screwdrivers directly on the engineered quartz surface.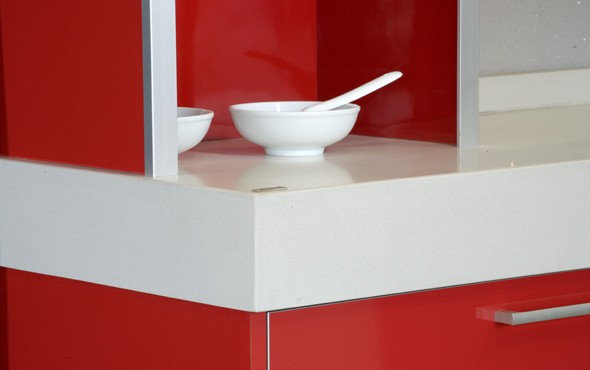 Taking care for matt and texturized surfaces
Everyday care for items made of engineered quartz with texturized surface finish and mat polishing requires more attention than when caring for glossy surfaces. This is caused by different level of the surface smoothness.
Majority of stains are easy to remove by simply following the recommendations when its necessary.
For removing stubborn stains, these shall be carefully rubbed with a detergent and soft abrasive sponge.
Special agents, protecting the surface and enhancing the color are used to take care for these surfaces and make them less prone to fingerprints and other stains appearing during operation.
Due to the fact that this type of surface is more susceptible to contamination and damage, that surfaces with glossy polishing, during manufacturing process it is recommended to protect the surface with protective film.
Removing stubborn stains and traces of liquids. Removing organic substances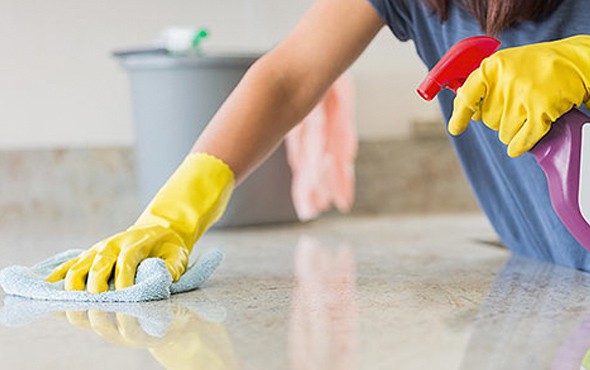 Engineered quartz is highly resistant to stains, which are however usually easy to remove.
Before trying to remove stains as described below, try to remove it with a moist soft cloth and soap solution or non-abrasive household detergent.
To remove sticky dirt, like food, chewing gum, nail varnish or dried paint, first scratch it off with a sharp scraper and then apply special detergent.
Use Cif gel for bathrooms or similar to remove organic substances.
Use mild degreasing agent containing alcohol or alcohol to remove chemical impurities.
---