Artificial stone in the bathroom - which materials and decors to use for the interior?
References
The bathroom is undoubtedly one of the most demanding spaces in the entire house. While designing a space, it is necessary to consider not only the functionality, but also the aesthetics of the interior. In addition, it is crucial to follow all hygienic principles in order to make sure that the bathroom will serve the household members well throughout the years. Is the combination of all these aspects even possible? Absolutely! All you need to do is use artificial stones for the project. Today we will be discussing which materials and decors will work best for your bathroom design!

Is it worth using artificial stone in the bathroom?
However, let's start by answering a question that, in the course of design and implementation, certainly comes up more than once for people who are seeking the best solutions for their interiors. Can artificial stone be a proper material for the bathroom? Absolutely! Decorative stone tiles are ideal for bathroom surfaces because they are durable and therefore resistant to damage or wear. In addition, their structure is smooth and pore-free, so they do not absorb humidity or dirt. The lack of micro-cracks in the artificial stone structure also makes it a very hygienic material - as no dangerous mould forms on the surface and no bacteria or fungi accumulate.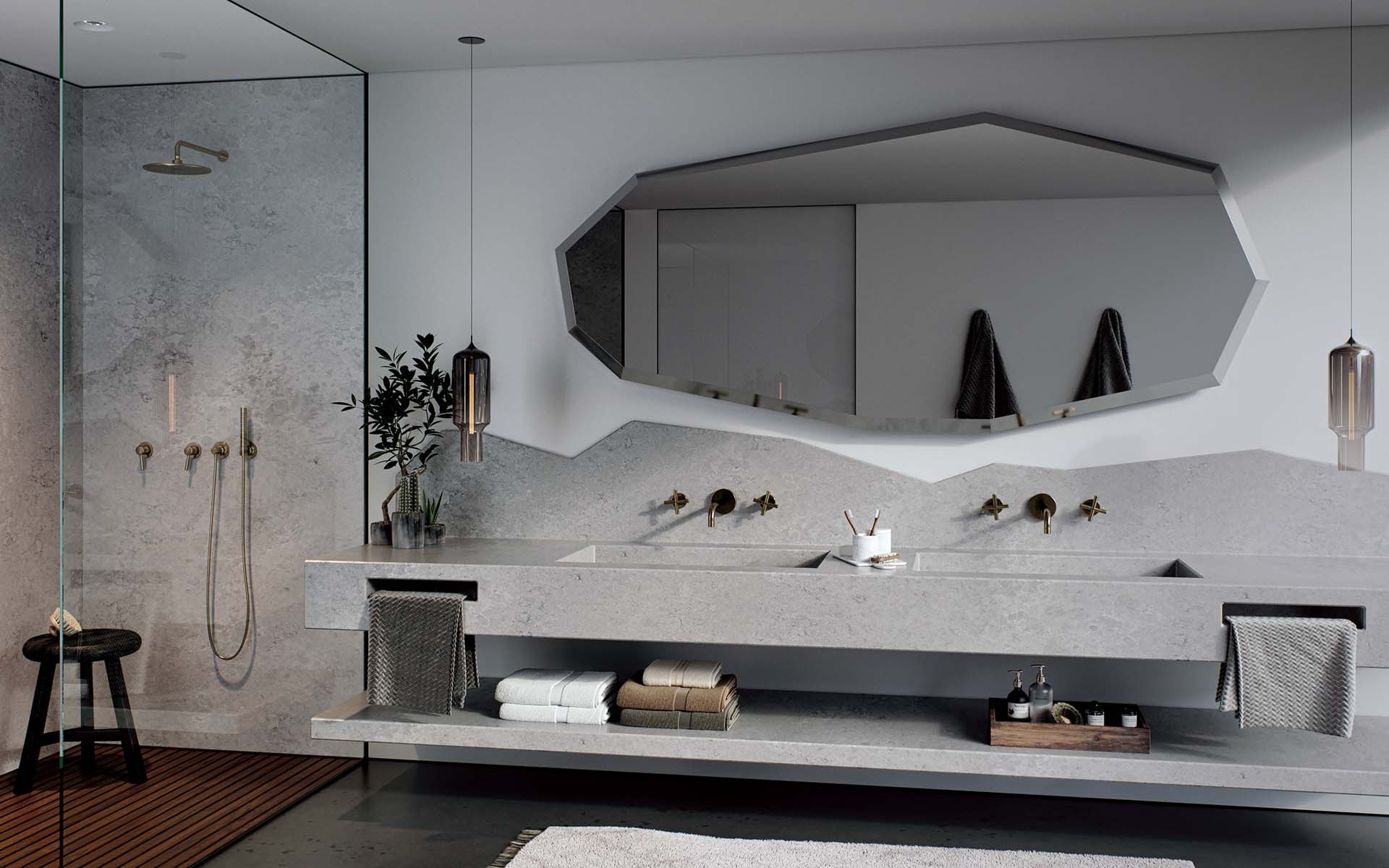 Decorative stone tile for the bathroom. Which one to choose?
While planning the bathroom at home, there comes a point when you have to decide on the overall design - i.e. the interior colour, wall finishes, countertops and surfaces, as well as accessories. However, let's focus on decorative stone tile. If we are looking for a reliable material for walls and countertops for the bathroom, which will add a touch of character to the interior and at the same time will be functional and durable, it is advisable to aim for artificial stone. The most advantageous choices are quartz surfaces, large ceramic slab or acrylic solid surface. All these three materials are distinguished by characteristics that make them ideal for interiors with high humidity and those that require special hygiene standards.
Tiles made of quartz surface, large ceramic slabs and acrylic solid surface are directly adapted to surfaces such as walls, bathroom countertops, shower trays or bathtubs. Furthermore, they can also be successfully used to create decorative elements that complement the overall design.
Tiles for walls and stone for bathroom countertops. The most fashionable artificial stone decors for the bathroom
Since we already know why decorative stone tile works well for bathroom design at home, we can now move on to discussing the most fashionable decors. What direction are recent trends heading in?
Minimalistic white interiors
Whiteness will probably never get out of fashion! For years now, bright spaces have dominated modern homes. This is no different for modern bathrooms, in which designers are very keen to use products in pure or broken white. Bright tiles on the walls combined with the white of the rest of the bathroom give the impression of enlarged space, clarity and tidiness. In addition, it is an extremely versatile colour that is certainly going to dominate interior trends for a long time ahead.
Marble imitation decors
Artificial stone, which imitates natural marble, is a material that is willingly used in modern interior design. Its qualities are exploited both in the kitchen and the bathroom. Many people also choose to use this material as a wall or floor decoration (e.g. in the living room or bedroom). However, let us return to the bathroom. Artificial decorative stone, such as quartz surface, acrylic solid surface or large ceramic slab, has a collection of decors with textures that imitate the much sought-after marble. As a result, everyone can afford a touch of luxury in their home at the same time saving money.
The granite and concrete effect
Another popular solution is artificial stone that imitates granite or concrete. Such decors are best suited to raw, industrial interiors. Granite or concrete tiles made of large ceramic slab, acrylic solid surface or quartz surface can be applied to walls, floors, countertops, or washbasins. It is a material that will add a touch of style to your interior and will last for many years.
Smooth, homogeneous tiles
Those who love minimalism and classic solutions will appreciate the presence of smooth, uniform-coloured decors. Muted colours are a versatile option that works particularly well for walls and floors. Artificial stone in neutral colours creates a consistent look in the interior and is a safe option for the long-term.
Unique textures
Decorative stone tiles do not necessarily have to be boring and homogeneous! Fans of slightly more daring arrangements will certainly appreciate bathroom decors with unusual patterns and textures. Sea waves, unconventional speckles or multicoloured veins are just a few of the suggestions offered by artificial stone for bathroom surfaces.
The colour for lovers of colours
Decorative stone tile has the advantage of being able to take on colours not typically seen in nature. Unusual colours are perfect for original interiors. Coloured stone tiles can be used both for walls, floors and finishing elements and as an ornamental detail. In fact, the choice depends entirely on the householder's preferences and artistic vision!
Artificial stone in the bathroom - which materials and decors to use for interiors? Discover the offer of Architype!
Decorative stone tile is an extraordinary material that works seamlessly even in the most demanding home projects. It can be used in the bathroom in a multitude of ways, thereby creating a functional interior with an appealing design. If you are looking for a reliable solution for your bathroom walls or countertops, artificial stone from Architype is just for you!
In our range you will find a variety of decors of quartz surfaces, large ceramic slabs and acrylic solid sufrace, the stones that perform well even in the toughest conditions! Discover our products and use artificial stone from Architype in your bathroom!
---