How does the GRANDEX mineral-acrylic composite thermoforming work?
References
Do you dream of a countertop for your kitchen made from artificial stone that will stand out from ordinary products? Or perhaps your bathroom design calls for an unusually shaped washbasin? GRANDEX acrylic solid surface, whose main characteristic is its ductility, is best suitable for demanding surfaces. Thanks to its thermoforming capability, this material can take on even the most unusual forms and shapes! So, let's take a look at what the thermoforming process for acrylic stone is all about!

GRANDEX: material for unusually shaped surfaces. Discover its characteristics!
Selecting the right material for a kitchen or bathroom is, after all, not such a straightforward matter. It becomes even more complicated when our vision differs from the standard solutions. Unusual washbasins, rounded countertops, sinks that are part of the kitchen workspace are just a few of the options that may come to mind when planning a renovation. In this situation, it is worth considering the use of acrylic stone.
GRANDEX acrylic solid surface is an artificial stone material that is created by combining natural minerals with acrylic resin. It is a material that can be safely used in both kitchens and bathrooms. Interior designers and contractors find it extremely attractive due to its numerous qualities, such as:
uniform structure free of pores and micro cracks,
surface resistant to moisture, stains, and dirt,
easiness of keeping the surface hygienically clean,
resistance to wear and mechanical damage,
possibility to seamlessly join more than one tile (invisible joints)
ease of renovation.
diverse range of colours and patterns.
These features make products made from the acrylic solid surface well suitable for surfaces that are used frequently and for areas that directly come into contact with water or food. The most important aspect of GRANDEX acrylic stone, however, is that, thanks to the presence of acrylic resin, it is a highly ductile material. So how can you make the most of it?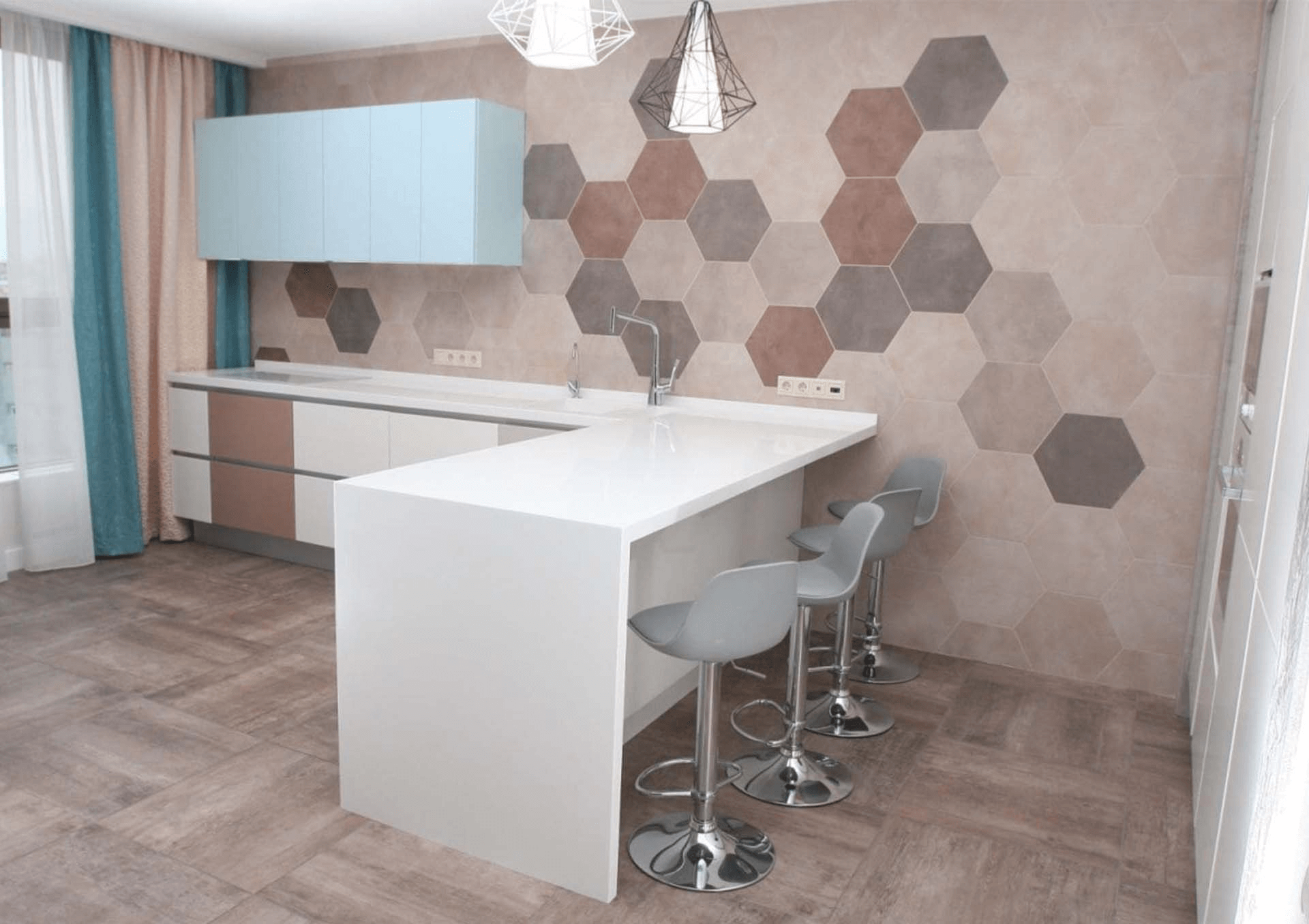 Thermoforming of GRANDEX acrylic solid surface. What does it consist of?
GRANDEX acrylic solid surface is a material that can be thermoformed. This is a process that transforms flat slabs of material into three-dimensionally shaped products. It is a method that is highly favoured when designing and finishing bathroom and kitchen interiors, where both functionality and aesthetics are important.
The thermoforming capability of GRANDEX acrylic solid surface is used to produce, among other things, kitchen and bathroom countertops, washbasins, sinks, bathtubs and other decorative elements for bathrooms and kitchens. The process makes it possible to adapt the material directly to the requirements of the project. How does the thermoforming of a acrylic solid surface proceed? Let's take a step-by-step look!
1.
Preparation of the material

The whole process of thermoforming an acrylic solid surface should begin with a preparatory phase, which means taking measurements and making a design that takes into account all the angles, rays and curves, necessary to obtain the final product. Then prepare the sheet of artificial stone that will be processed.
2. Heating of the material
Once you have the material, you can start heating it. To be able to form the slabs into the desired shape, the acrylic solid surface needs to be heated to 150-170 °C, when it becomes malleable and easy to work with.
3. Forming the slab
Forming the acrylic solid surface slabs is the most important moment in the entire thermoforming process. At this stage, it is possible to form the acrylic stone into any shape that will remain in shape even at the final stage. It is here that a washbasin, countertop, sink or basin takes on an unusual character.
4. Cooling and hardening
In order to ensure that the product does not lose the form given to it, it is essential that it is properly cooled and hardened.
5. Final treatment
The final stage of the thermoforming process is the finishing treatment. In the case of products made of several components, it is necessary to bond them together using specialised glue and clamps. Acrylic countertops are further reinforced by a plywood or chipboard construction. To achieve the desired effect, it is also necessary to shape the edges with a milling machine and to grind or polish the artificial stone surface.
6. Quality control
The final product should always be properly checked for quality to ensure that it meets all standards and requirements for quality and durability.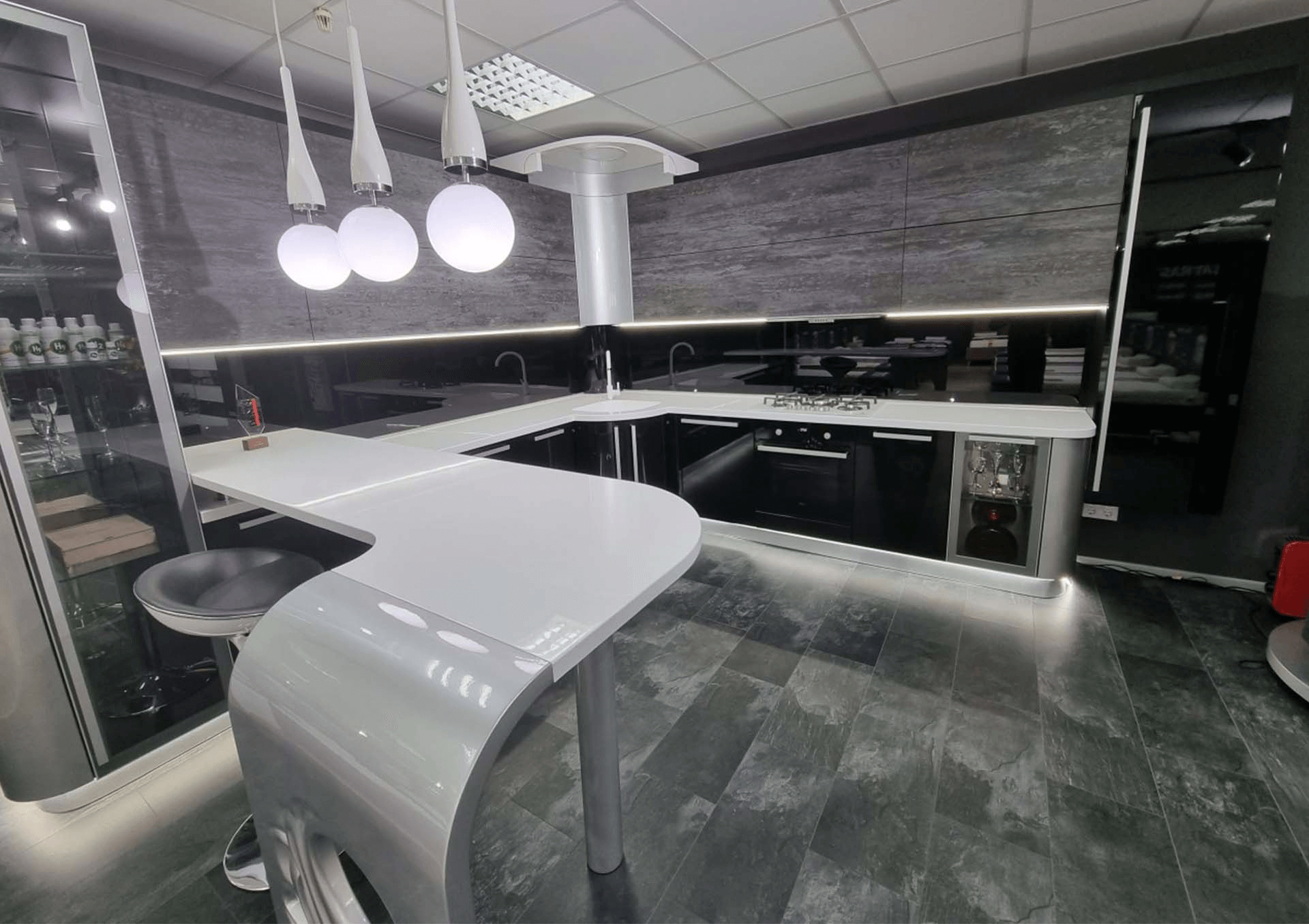 What can be made out of acrylic solid surface?
GRANDEX acrylic solid surface thermoforming is an extremely useful feature that makes it possible to create products in a variety of shapes that are an attractive solution for interior design projects. Thanks to it's durability and ease of processing, acrylic solid surface is a popular material used in the formation of products such as countertops, sinks, basins, shower trays and bathtubs. It is also ideal for creating artificial stone accessories for kitchens and bathrooms.

Discover the GRANDEX brand from Architype!
GRANDEX is a global brand specialising in the creation of a acrylic solid surface that is successfully used in kitchens and bathrooms. It is a malleable material with seamless joints that can be used to create products with the most unusual shapes. The acrylic stone is characterised by excellent features and at the same time is available at a very attractive price.
At Architype, you will find GRANDEX acrylic solid surface in a wide range of collections. The variety of colours and patterns makes it easy to choose the right decor for your particular project. Try one of the more than 90 decors and transform your interior!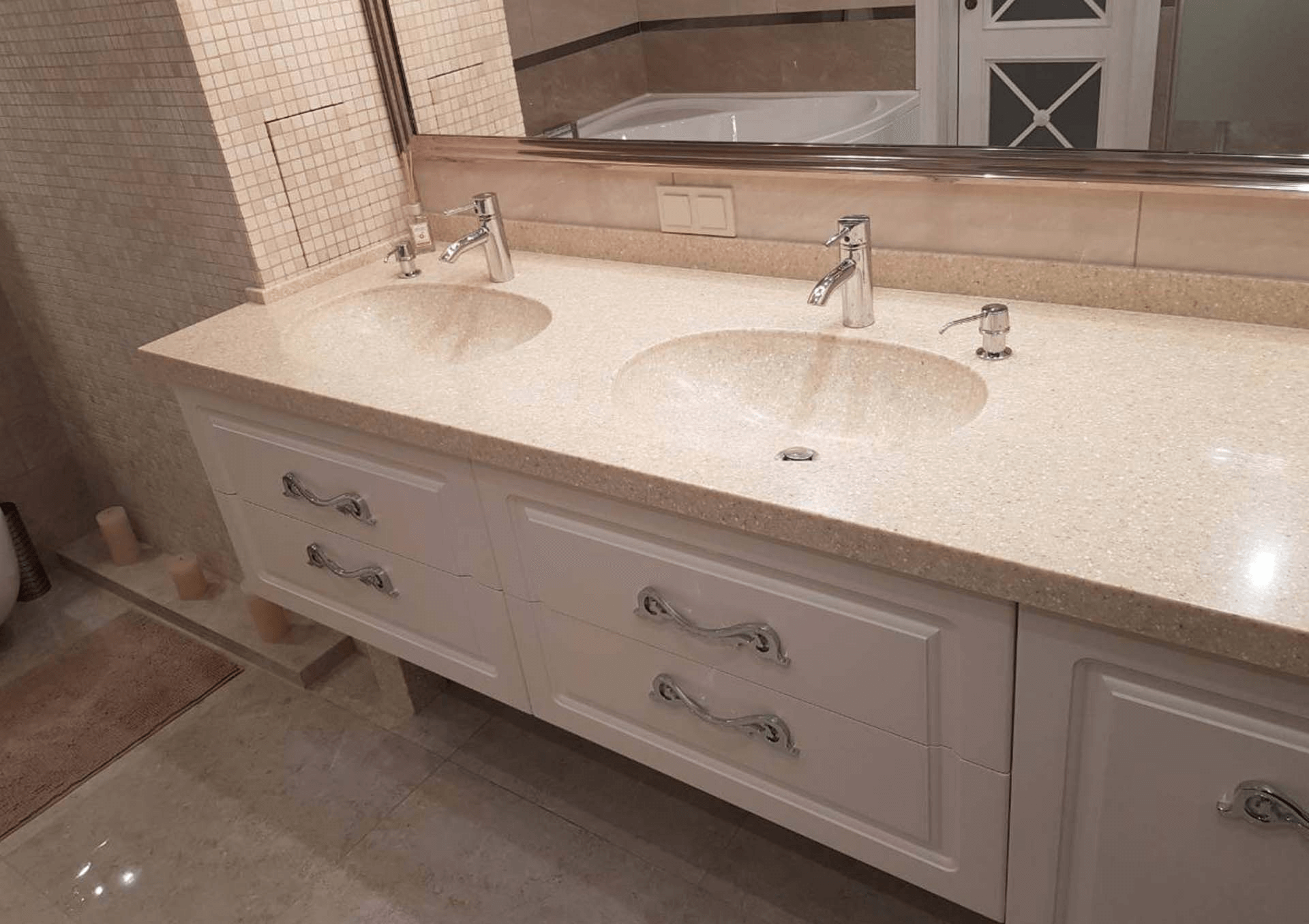 ---