Installation and assembly of an artificial stone countertop. Which aspects should be taken into consideration?
References
Countertops made of artificial stone are becoming increasingly common in domestic kitchens and bathrooms. They are appreciated above all for their durability, aesthetics and ease of maintenance. However, to ensure that they are pleasing to the eye and at the same time function properly, they first need to be correctly installed. And that is not so easy! Therefore, let's take a look at what you need in order to properly install a countertop made of artificial stone in your home!

Why is it worth choosing artificial stone countertops?
Artificial stones are materials that are perfect for kitchen and bathroom countertops. Why? Mainly because they are characterised by extraordinary resistance to factors such as moisture, bacteria, mould or fungi. Due to their antibacterial features, these surfaces are fully hygienic and safe for our health. In addition, artificial stone is a material that demonstrates greater resistance to stains, wear and tear or mechanical damage. In this regard, it even surpasses natural stone itself! If we add to this the easiness of cleaning, we gain a material that is ideal for use in areas such as the kitchen or bathroom. The price is another argument in favour of artificial stone countertops, which in this case remains at a very appealing level.
However, before enjoying a beautiful, functional, and durable countertop, it needs to be adequately prepared and then installed. How can you do this? Below we explain how to install an artificial stone countertop step by step!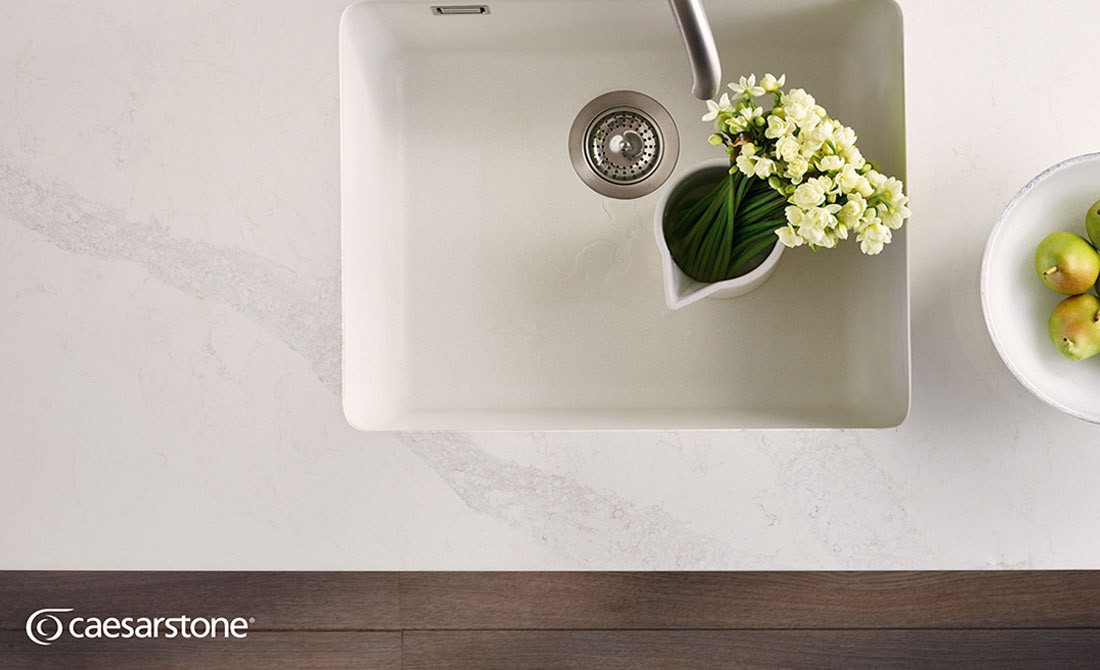 Assembling artificial stone kitchen countertops step by step
Although it might seem that installing countertops is a relatively simple matter, it requires a lot of experience and specialized tools. Particularly when we're talking about materials such as quartz surface, large ceramic slabs or solid surface, which are difficult to process and can weigh up to 260 kg! So, if you are inexperienced in installation and lack the right tools to handle the materials, it is best to seek professional help. This will ensure that everything is done correctly.
And what does the whole process look like? Let's find out!
1. Selection of the right stone for your countertop
The first step when it comes to the installation of a kitchen countertop is, naturally, the choice of material from which it will be made. Currently, you will find three proposals in the artificial stone range from Architype:
Each of these materials would be perfect as a countertop in the kitchen or bathroom. All of the stones have multiple collections of decors that vary in colour and pattern. The materials themselves are distinguished by their thickness. It is therefore advisable to analyse your own interior design before making a decision in order to best match the material with the other elements in your kitchen.
2. Measurement of space and design of countertop for kitchen
Once the aesthetic issues are behind us, it is time to start measuring the room where the countertop will be placed. The measurements should be taken firmly, so that each element matches correctly. Keep in mind that in this case, even minor differences of a few millimetres can cause discrepancies! It is a wise idea to keep the measurements in the form of a blueprint, which will take into account all the guidelines, regarding the final product. In the case of a countertop, these will include the hole for the sink, the place for the battery, the cooker and other elements that will be installed on the countertop.
3. Preparation of the substrate for the countertop
Once the design is in place, it's time to get started. First, you should focus on preparing the countertop properly. The place where the countertop will be positioned must be level, stable and dry. In addition, make sure that the base can support the weight of the countertop and that each appliance opening (such as a sink, dishwasher or hob opening) is adequately reinforced.
4. Cutting and matching the countertop to the kitchen space
There is no philosophy that artificial stone kitchen countertops are created by cutting the slab to the preferred size or dimensions of the area. Nevertheless, it is worth knowing that this can only be done with specialised tools and skills. Assembling a kitchen countertop therefore requires cutting and fitting. These actions take place directly on site, which is why it is worth hiring a professional for this or using the services of a stonemasonry.
5. Assembly and bonding of kitchen countertops
Once the countertop has been adapted to the place in which it will be used - that is, when we have obtained the desired dimensions of the slab and each hole is properly enhanced and fitted - we can move on to the assembly stage. In the first instance, it is a good idea to 'try the countertop on' without using glue. This will enable you to ensure that you are certain that all the parts are the right size and shape, and that the countertop itself fits properly against the walls and cabinets in the kitchen. When everything looks correctly, you can begin gluing the board to the substrate with a specialised adhesive.
The seams formed when connecting the stone slabs should be glued together using a colour-matched adhesive. If necessary, it can be mixed with pigment. Before applying the adhesive, make sure that there is no dirt on the surface of the joints. Apply the glue in a thick layer on both sides of the edge. Then press the seam firmly with professional clamps.
6. Sealing and finishing of the countertop
Countertop assembled, now it remains to seal and finish the surface. Only then will it be possible to prevent water and dirt from getting under the countertop. The movable parts of the countertop can be connected to the kitchen cabinets using silicone. In a similar way, the countertop surface can be bonded to the wall. Once the sealing is complete, remove any remaining adhesive with a scraper and then wipe the surface with a clean cloth soaked in alcohol.
7. Care and maintenance of kitchen countertops
The installation is complete, but that's not all! After all, the countertop surface needs to be properly maintained. Artificial stone is a material that is relatively easy to keep clean. However, it does require regular care and sometimes maintenance in order to retain its aesthetic appearance over the long term. However, the material does not like aggressive detergents, which can damage it. Daily care is best carried out with pH-neutral cleaners such as washing-up liquid.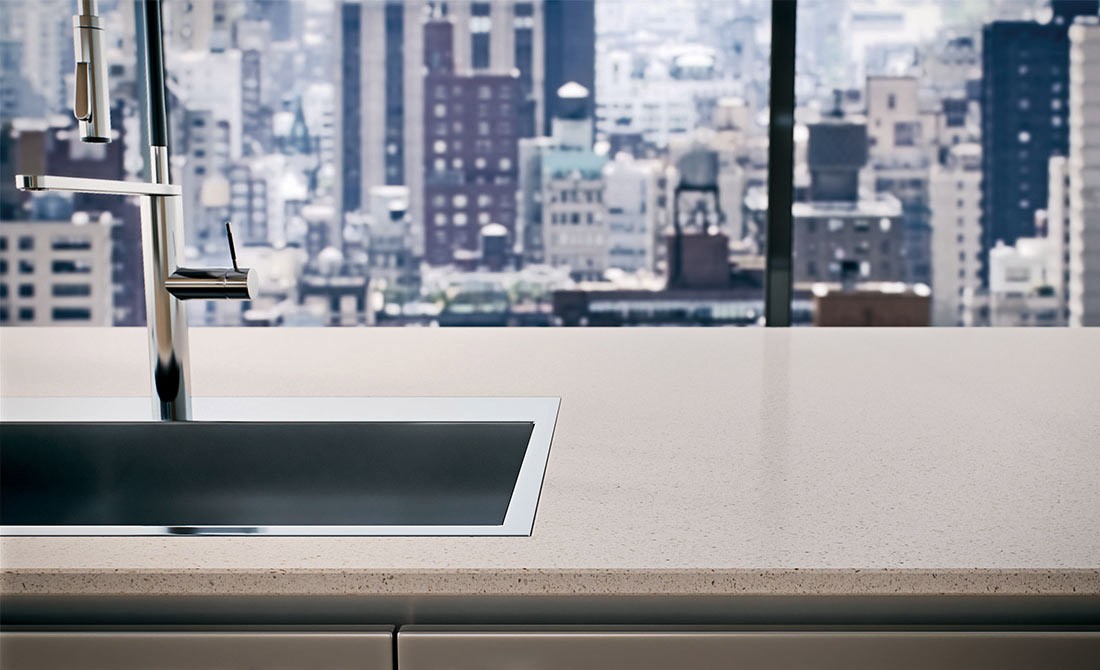 The installation and assembly of an artificial stone countertop - something to bear in mind!
Artificial stone is a material that combines aesthetics with functionality. This is why an increasing number of people are choosing to use it to cover the surface of their kitchen countertop. In this case, however, it should not be forgotten that only proper installation will allow you to enjoy a well-machined, installed and finished countertop. Here are a few tips at the end:
Always ensure that the room will not undergo any further renovations before installing the countertop. Remove any residue from previous building work that could damage the structure of the stone when installing it in the kitchen.

Artificial stone countertops are characterised by their high weight. Therefore, more than one person is usually required to assemble them. It is also important to ensure that there is sufficient space to minimise the risk of damage to the countertop during installation.

During assembly, it is important not only to prepare the countertop and the substrate underneath, but also everything around it. In this case, care should be taken to ensure that the wall surfaces are even and free from bends or protrusions.

The installation of countertops requires special tools and knowledge, so it is advisable to ask for help from professionals.

If you are looking for a durable material for your interior, be sure to check out the range of artificial stones from Architype. We offer a wide range of quartz surfaces, large ceramic slabs and solid surfaces, which are ideal for kitchen countertops. Explore our stones and change any surface in your home!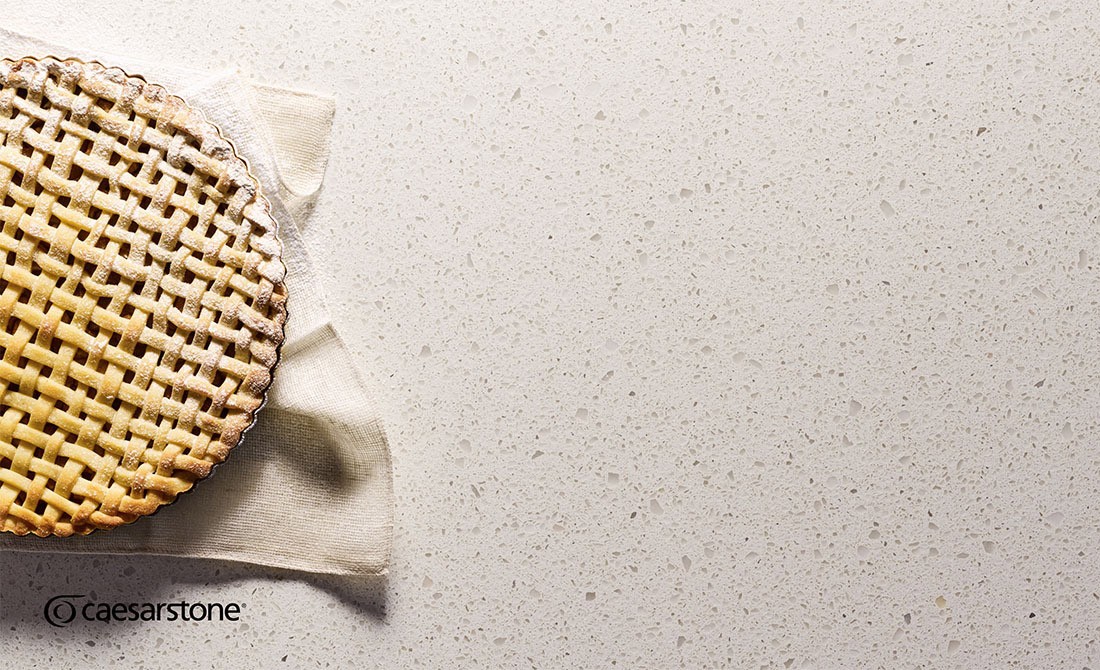 ---