Discover Quartz Surfaces - the versatile material for countertops, windowsills, interior cladding and more!
References
When it comes to adding diversity into any living or working environment, nothing compares to the beauty of stone. It's no wonder that using countertops made of stone for the kitchen or bathroom has become one of the most popular interior trends in recent years. While natural stones like marble and granite remain popular choices among style enthusiasts, it's worth considering whether they truly provide the most advantageous solution. Today, we invite you to explore an exciting alternative - quartz surfaces. Discover the unique characteristics of this outstanding material and witness its transformative potential in various projects. Let's dive in and uncover the beauty and versatility of quartz surfaces!

What are Quartz Surfaces?
Quartz surfaces, also known as quartz, is a remarkable material that closely imitates natural stone. Visually, it's nearly impossible to tell the difference. However, when it comes to properties, quartz surfaces have a significant advantage over marble or granite. Through advanced technological enhancements, quartz surfaces gain valuable physical and mechanical properties that make it superior.
The secret lies in its composition. With natural quartz as the primary ingredient, typically comprising 93 - 95% of the material, quartz surfaces boast exceptional strength and a unique aesthetic appeal.
To bind the ingredients together and enhance their properties, a polyester resin is used, typically comprising 4-6% of the composition. Additionally, pigments are added as a final component to achieve a wide range of colors and patterns. This allows for both natural stone imitations and unique designs that are not found in nature.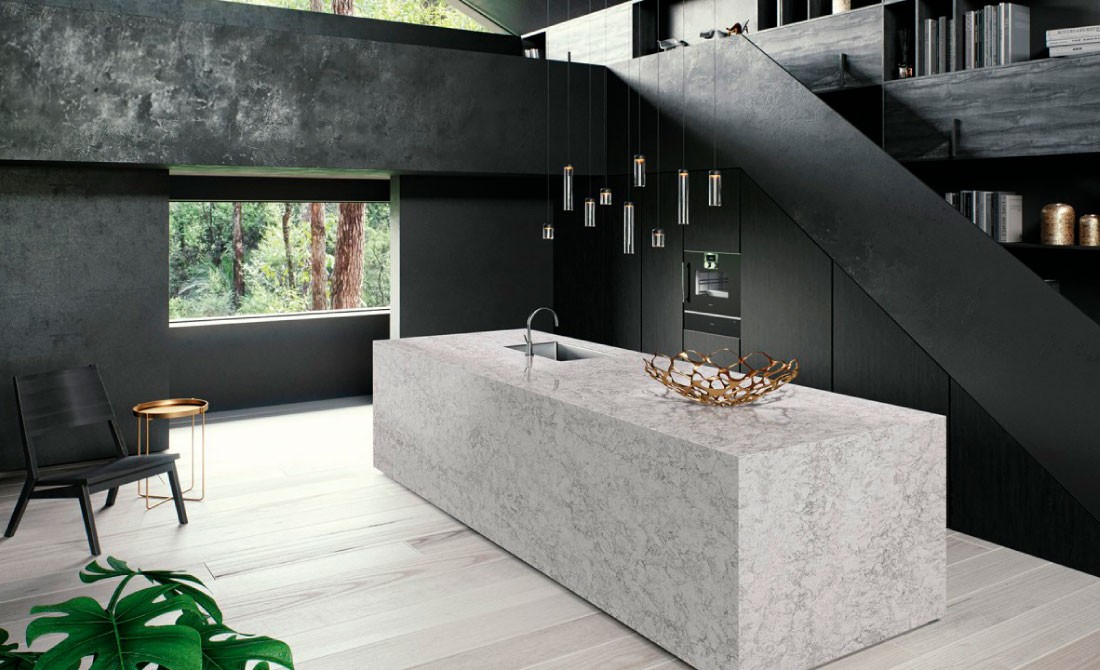 Composition and additives
Quartz surfaces are composed of three primary ingredients: quartz, resin, and pigment. To enhance the variety of decorative options, manufacturers often add additional materials into the composition. These may include glass, marble chips, mirror particles, and even fragments of natural granite. Furthermore, silver ions are commonly added to the quartz sand and resin, providing the material with antibacterial properties.

Applications
Quartz surfaces have become increasingly popular in recent years. Thanks to their versatility, they can be seamlessly integrated into both residential and commercial settings. Whether it's an apartment, a hotel, a restaurant, or even a school or hospital, quartz surfaces are a perfect fit for a wide range of projects.
Quartz surfaces are commonly used for kitchen and bathroom countertops, offering a durable and stylish solution for these essential areas. Quartz surfaces are also ideal for wall cladding, flooring, stairs, and windowsills, adding a touch of elegance to any space.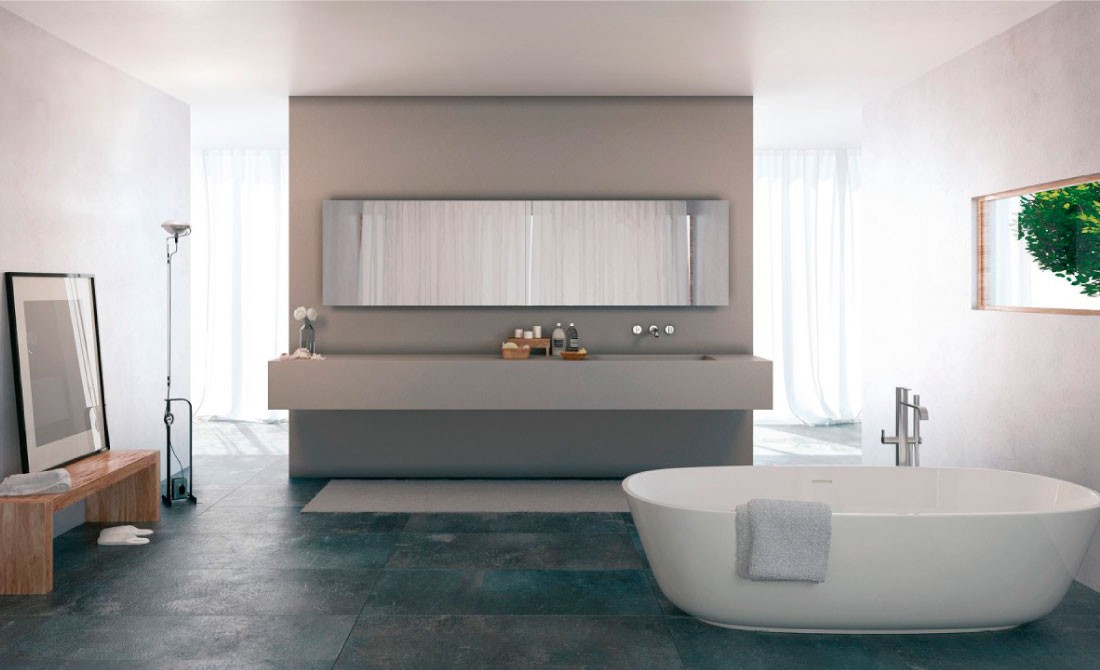 Characteristics
Quartz surfaces combine aesthetics and functionality and are renowned for their exceptional properties, making them a popular choice for countertops. Let's explore the unique characteristics of quartz surfaces.
Durability and solidity
Durability is one of the key properties of quartz surfaces. With the presence of quartz, a mineral ranked only below cordierite, topaz, and diamond in terms of hardness, these countertops are built to withstand the test of time and therefore are an excellent investment for many years.

Resistance to damage
The solid nature of quartz surfaces ensures resistance to damage. Those who opt for quartz countertops in their spaces can enjoy the charm and functionality. This material is highly resistant to scratches and mechanical damage so it can even be used as a cutting board!

Wear resistance
One of the valuable qualities of quartz surfaces is their exceptional wear resistance. Even with daily and intensive use, these surfaces maintain their pristine appearance. The deep colors of the decor remain vibrant, and the absence of scratches and damage ensures their long-lasting beauty for many years.

Resistance to moisture, stains and dirt
The non-porous and microcrack-free structure of quartz surfaces provides resistance to moisture, stains, and dirt. Accidental spills or stains from liquids such as juice, coffee, or red wine can be easily wiped away, leaving no lasting marks.
Hygiene
The smooth and pore-free surface of quartz countertops ensures optimal hygiene in your living spaces. It discourages the growth of bacteria, fungi, and mold, making it an ideal choice for kitchens and bathrooms that require the highest standards of cleanliness.
Effortless maintenance
Keeping your quartz countertop clean is easy! Maintaining quartz surfaces is a hassle-free task. No need to spend on expensive cleaning solutions. A gentle cloth and mild dish soap or any neutral pH cleaner will do the job perfectly.
Affordable price
Quartz surfaces not only offer a range of remarkable properties, but they also come at an affordable price. Customers can enjoy the beauty and functionality of quartz without overspending. Say goodbye to expensive alternatives! Quartz countertops provide a cost-effective solution compared to natural stone products.
Summary of Quartz Surface advantages:
Quartz surfaces offer numerous benefits, including:
Versatile applications for both private and commercial projects;
High resistance to mechanical damage and scratches;
Moisture, stain, and dirt resistance;
Nonporous and antibacterial structure that prevents the growth of bacteria, fungi, and mold;
Compatibility with food;
Easy maintenance without the use of chemicals;
Durability and longevity with no specialized upkeep required;
Top-quality material at an affordable price;
Wide range of colors, designs, and decors.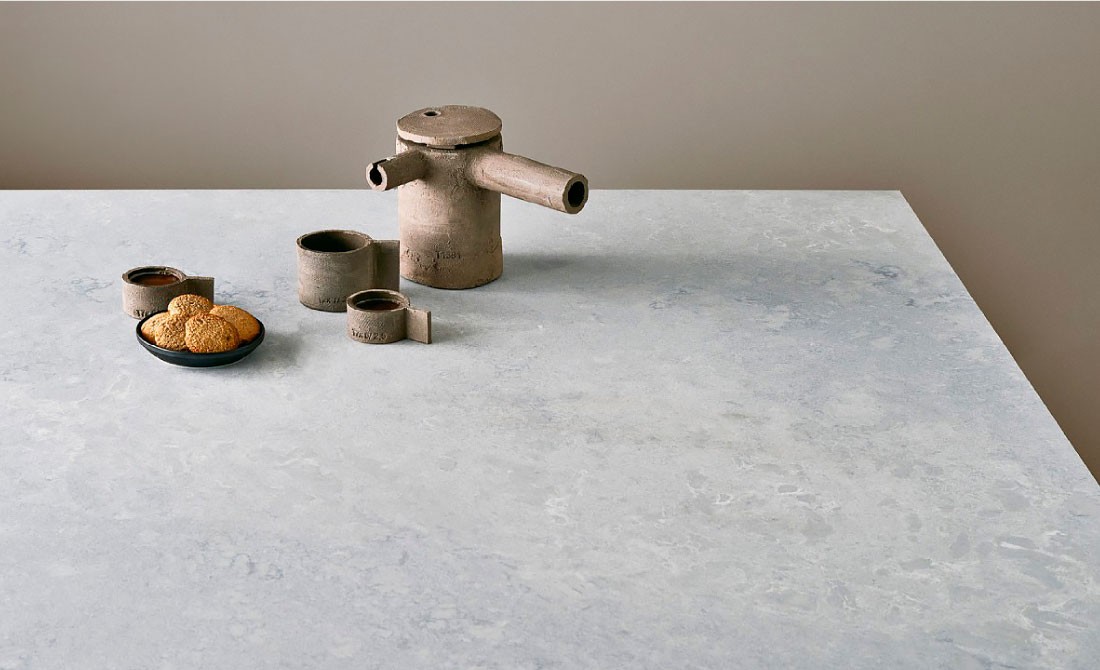 Quartz surfaces – an alternative to natural stone
Quartz surfaces are an excellent choice for kitchen and bathroom countertops, as well as windowsills. With their exceptional appearance and precise finish, it's hard to tell the difference between quartz and natural stone. However, what truly makes quartz surfaces stand out are their exceptional properties that speak for themselves!
Quartz surfaces offer superior strength compared to natural granite. Countertops made from quartz are highly resistant to moisture and dirt, surpassing the performance of marble surfaces. Additionally, maintaining quartz surfaces is very easy, as they don't require special treatments or chemical cleaners for cleaning and protection.
Countertops, windowsills and interior cladding. Choose quartz surfaces from Architype!
When it comes to designing your kitchen or bathroom, quartz surfaces is a material that deserves your consideration. With quartz countertops, you can expect a perfect blend of quality, durability, and aesthetics. The diverse range of patterns and colors available allows you to select a material that perfectly matches your preferences. And the best part? It's affordable, making it accessible to everyone.
At Architype, we proudly offer quartz slabs from three renowned manufacturers: Caesarstone, Avant Quartz, and Tisoro. Each of these brands presents collections that beautifully imitate natural stones and offer unique color options not found in nature. Whether you desire the timeless elegance of Avant Quartz's Calacatta designs or the best-selling options from Caesarstone, we have you covered. Our warehouse is stocked with these slabs, ensuring quick availability and reduced wait times. This means you can swiftly proceed with the installation of your finished products.

Discover the endless possibilities of quartz surfaces at Architype and find your perfect countertop solution today!
---